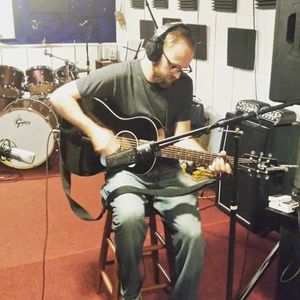 Hey, gang! 
As I write this, I'm preparing for the fourth recording session for a brand-new solo album to be released next year. I'm so excited to bring this new music to you, I can't harldy wait. But, as Shotgun Willie once said, you can't make a record if you ain't got nothin' to say.  Accordingly, I'm working hard to make sure what I've got to say is going to be worth your time. That means slowing down to get all the details right and inviting some of the best musicians in central Iowa to contribute to the project. Bryon Dudley, a DIY hero and an Ames music luminary, is engineering all the recording sessions. 
This is going to take some time, but I'm determined to get it done to the best of my ability. Keep in touch either on my website or on Facebook or Twitter to get the behind-the-scenes details as the album takes shape. 
The last few months were some of the busiest I've ever had from a musical perspective. I played about 20 gigs in the span of just a few short months, with shows as far away as Orange City and Grinnell and Quasky. Add in a job and family obligations, and I got stretched pretty thin. 
That's why I'm cutting down on gigs for a few months while I finish the album and prepare for the birth of my daughter in February. But, come springtime, I'm sure I'll be suffering from rock & roll fever, so expect a full slate of shows, both solo and with the Explosion, throughout spring and summer of 2017. 
In the meantime, thanks to everyone who came to my shows, tossed change in my tip jar, threw back shots of 10 High with me or listened to my late-night rants about the essential ingredients of this wondrous thing we call rock & roll.  Most of all, I want to thank my bandmates Greg Bruna and Dave Atchison, who slaved away during swelteringly hot band practices, loaded up gear in Subarus and drove hours and hours to play my songs with me. You guys are my brothers and my musical soul mates, and I can't wait to play more shows with you next year. 
Keep on kickin' ass, everybody!  I'll see you soon.