HEY I'VE GOT NEW MUSIC FOR YOU – and I want to get it to you in the most cowpunk way possible.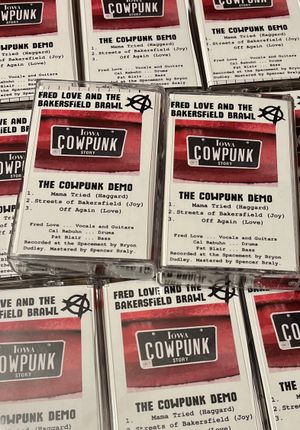 My bandmates in the Bakersfield Brawl and I recorded three songs at the Spacement, a recording studio in Ames run by my good friend Bryon Dudley. We laid down our take on two country classics and then recorded a brand-new original titled "Off Again." The result is roughly nine minutes of electrified hardcore hillbilly music that we're calling the Cowpunk Demo. 
You can listen to the entire demo on my Bandcamp page, and "Off Again" will drop on Spotify and other major streaming services next month. I'd be grateful if you took a little time to stream the new songs and let me know what you think. 
But, for the crusty cowpunks out there who want to get their hands on some physical media, I wanted to do something special for the first official release from Fred Love and the Bakersfield Brawl, something I've never done before that pays homage to the punk traditions that inspired this project. 
Years ago, it was customary for punk bands to record demos and make copies of the songs on cassette and distribute them by hand. These tapes often featured hand-drawn DIY art and other personal touches. In a world of mass-produced and priced-to-own consumerism, demo tapes stand out as something special. They were keepsakes and calling cards for those with a personal connection to the band as well as a means of distributing recorded music. Naked commerce took a backseat to personal connection and viral, low-fi dissemination. DIY artists elevated flimsy pieces of disposable plastic into authentic works of art. What could be more punk? 
With that in mind, friends, let me introduce you to Fred Love and the Bakersfield Brawl's Cowpunk Demo on cassette! I dubbed and numbered each of these tapes myself on an old boom box in my basement. I'm going to send out a few to friends, and then I'm going to make the rest of the tapes available to anyone who wants one free of charge, so long as my very limited supply holds out. 
So how can you get one? Just ask me, really. I'm going to try to make as many as possible available for free. Comment on this thread or send me a Facebook Messenger note. Talk to me at a show or ask me if you see me in person. If you live in the Ames area, I can deliver a tape to you in the Cowpunk van. If you live further afield, I'll cover the postage cost if it's not too exorbitant. I have no idea what kind of demand exists for something like this. It'll be first come first served, and if people actually seem to want these things, I might decide to charge something for them at a later date. I dunno. It'll be an experiment. 
My guess is most folks don't have access to cassette players these days. If that's you, please do stream the songs on Bandcamp or your streaming service of choice. Honestly, you'll get better sound quality via streaming than I can manage on these cassettes anyhow. 
But if you're looking for something a little more authentically cowpunk, get your hands on one of these tapes. Supplies are limited!