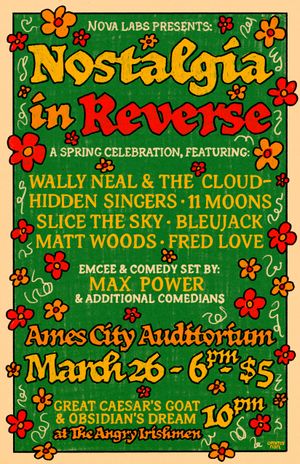 Listen up, my friends, because I'm going to make this as simple and direct as I can. 
Everyone can – and should – make music. It is not the sole domain of major record labels. You don't have to have millions of dollars or access to the finest recording studios in Los Angeles or Nashville. 
If there's a thesis statement that connects all of my musical endeavors over the last 20 years, it's that normal folks with jobs and kids and responsibilities are perfectly capable of making interesting and vital art. Fame and industry backing are by no means prerequisites. In fact, those things often hinder the production of quality music. 
With that in mind, have you heard about Nostalgia In Reverse, the music and comedy showcase scheduled for 6 p.m. this Saturday at Ames City Auditorium and the Angry Irishmen? 
Ames indie label Nova Labs organized the event, and it exemplifies the DIY spirit that I'm talking about. Virtually all the musicians and comedians appearing at Nostalgia In Reverse hail from central Iowa. The lineup features folk, blues and Americana. It features jazz, hip hop and psychedelia. And there's sure to be plenty of laughs. 
Something for everyone, all for a measly $5. 
Nova Labs has released more than 150 projects and produced numerous live events since its founding in 2013. My buddy Bryon Dudley of Strong Like Bear runs the operation out of his home, where he's also built a recording studio. I've released several projects on Nova Labs, going all the way back to the Colt Walkers album in 2015. I fondly remember folding and gluing the CD cases for the album by hand in Bryon's living room, just like my DIY hero Ian MacKaye once did when he established the legendary indie label Dischord Records in 1980. 
Nova Labs is independent. It's innovative and weird in ways mainstream entertainment almost never is. And it's punk af. 
I get so inspired when I think about communities of artists making their vision into a reality with nothing but their own creativity and determination, free from the constraints and conventions of popular taste and production. Nova Labs and events like Nostalgia In Reverse represent a creative spirit that runs counter to so much of our consumer-driven culture, which usually seeks to foist disposable and plastic music on the largest possible audience. 
Sometimes that's ok. But there's a lot to be said for appreciating music as part of a smaller audience.  The connection is often far stronger, and the art is often far more daring. 
If you weren't planning on going to Nostalgia in Reverse, consider this your wakeup call. Make art. Go to your friends' shows and share their work. Join the underground! 
Hope to see you Saturday night!