The new album is ready for your ear holes!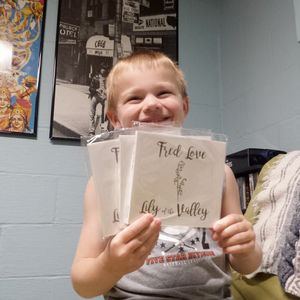 As you can see from the photo of my devilishly handsome son, I've got physical CDs that I'll be selling at all my shows for the rest of the summer. The album features some killer cover art and design by Melissa Lanphier, and the best way to admire it is to track down a copy and hold it in your hands. If you can't make it to a gig to buy a CD, you can order one through Nova Labs, one of the scrappiest and most eclectic DIY record labels in existence.
But, if streaming or downloading is your preferred method of musical consumption, I've got you covered there too. You can hear the album on Spotify, iTunes and virtually every other online music platform you can think of. Click here to check it out on Spotify. Honestly, I don't really care which method you pursue. If you take the time and give my album a chance, that's all the reward I could ask for.
Thanks to everyone who has helped and supported me over the last year as this album went from vision to reality, especially my wife Liz. I couldn't have done this without you. 
'Lily of the Valley' is available now, and I hope you enjoy it! 
-Fred