Hey, gang! I just wanted to give everyone a quick update on the record and my life in general.  First off, the album is 100 percent recorded. Yes, you read that right, buddy. All the tracks on all 11 songs are in the can.  Bryon Dudley and I managed to cobble together enough time on Saturday mornings and the odd weeknight to get this sucker all recorded. And I'm so chuffed about how it turned out.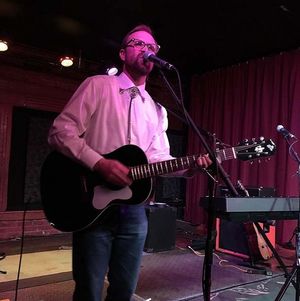 I'm not exaggerating when I say that I managed to wrangle some of my musical heroes to contribute to the project. Matt Woods, whom I firmly believe to be the best guitar player I've ever met, added some moody slide work to a song. Jen McClung, whom I firmly believe to be the best singer I've ever met, sweetened a track with some gorgeous harmonies and counter-melodies. Curt Snook, one of the finest fiddle players in the state and an all-around brilliant musical mind, sawed away on two songs. Nathan Emerson, a truly dedicated and eclectic musician, recorded a pedal steel part that will tug your heartstrings clear out of your chest. And most recently, Matt Jesson, a virtuosic keyboardist who plays in Brother Trucker (maybe you've heard of them), added his magic touch to two songs. 
And, of course, Greg Bruna and Dave Atchison, my musical soul mates, added their rocking throb and thwack to four songs.  I can't thank all of those folks enough for making the time to contribute. I can't believe how lucky I am to know so many talented and good people. 
But enough gushing. 
Now we've got to focus on mixing and mastering to make sure these songs sound as good as we can get them. I've got a title in mind for the album, and I'll be announcing that at a later date, hopefully with a fully mixed-and-mastered song to boot. Stay tuned!
I've also booked several new shows for the spring and summer. The inaugural Uncertainty Fest, organized by local record label Nova Labs for late April, is gonna be a scream. The Fred Love Explosion will be there, along with plenty of other #TeamAmes favorites and some nationally touring acts as well.  Keep checking my show dates page for the latest on when and where you can see me. 
Finally, as I write this, my wife and I are preparing for the imminent arrival of our baby daughter. My 5-year-old son has remarked more than once how my family has influenced the songs on this new album, and I'm sure our new addition will inspire even more music and love. Liz and I can't wait to meet our little girl. It's gonna be any day now. 
Keep it punk rock, gang! 
-Fred